Forcecop Supreme Bot Review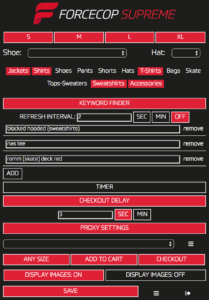 Recently a new bot popped up on the market, and it seems to have a good amount of hype behind it. I've tested out all of the most known Supreme bots in the game, and figured I better test out the Forcecop Supreme bot, and see what the hypes about. So far my experience with this bot has not been good starting out the S/S18 season.
They offer 2 different Supreme bot options. What they call the "Supreme Bot (Starter)", and what they call the "Supreme Bot (Pro)", which is what I personally bought to test out. The only real difference between the two is that the pro version allows you to add multiple keywords, so you can add multiple items to your cart, while the starter version only allows you to add one item per cart.
LET'S TALK A LITTLE BIT ABOUT THE PRICING.
Forcecop offers their "Supreme Bot (Starter)" for $49.99.
Forcecop also offer their "Supreme Bot (Pro) for $69.99.
Both bot options include a $25 renewal fee at the end of each Supreme season.
MY EXPERIENCE WITH FORCECOP'S SUPREME BOT (PRO) SO FAR
Starting out the Supreme spring/summer 2018 season, I definitely don't understand the hype behind this Supreme bot. So far for the first 4 weeks of the new season, this bot has completely failed every drop. Like you would have honestly had a better chance just focussing on checking out the items you want manually than running this bot. And that's not just my experience, TONS of people using Forcecop have taken L's every week so far this season.
I honestly think with Forcecop's Supreme bots they did their best to copy Supercopbot's Supreme bot, make it a little cheaper for a while, and then market it super hard. Even the layout looks very similar to Supercopbot's layout, but in my experience so far, Forcecop really doesn't compare, as Supercopbot has been copping me what I've been after every week so far this season, and Forcecop has obviously not been working.
IS FORCECOP'S SUPREME BOT (PRO) WORTH THE $69.99?
I think you already know my opinion, but I'd love to see them get their bot fixed up and working nicely, as I have heard it used to be a solid bot up until this season. Personally I'm going to keep running Supercopbot's Supreme pro bot, as it's been consistently good, and is still working great this season. But I will update this review if Forcecop does fix the current issues with their bot.
If you would still like to purchase the Forcecop Supreme bot, it's available here.
If you'd like to read a full review on Supercopbot's Supreme bot, you can find that here.