Supercopbot Supreme Pro Bot Review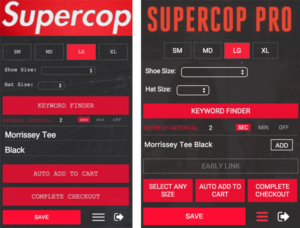 Supercopbot is one of the many Supreme bots I've tested out, and will be reviewing. They started in 2014 to try to help people cop hyped items for themselves, or to resell. This bot is definitely worth a look if you're looking for a solid Supreme bot option for this S/S19. You're definitely going to wanna be prepared for this season, with the hype around Supreme greater than ever!
Supercopbot offers 2 different Supreme bots. What they call their "Supreme bot," and what they call their "Supreme pro bot". The main difference between the two, is basically that the pro version lets you add multiple items to your cart, while the non pro version only lets you cart 1 item (The pro version is definitely worth it).
LET'S TALK A LITTLE BIT ABOUT THE PRICING.
Supercopbot offers their "Supreme bot" for $69.99.
Supercopbot also offers their "Supreme pro bot" for $89.99.
Both bots include a $30 renewal fee at the end of each Supreme season.
FEATURES OF SUPERCOPBOT'S SUPREME (PRO) BOT WITH BRIEF FEATURE REVIEWS.
Worldwide Support: Compatible with all Supreme websites (US,UK,JP).
Size Selector: Picks whichever size you pick (Works as it should).
Add To Cart: Works good, adds the item(s) you selected to your cart very quickly.
Complete Checkout: Works good, checks out very quickly, and doesn't get detected by Supreme as other bots I've used in the past have.
Multiple Keyword Finder: Only available with their pro version, but works amazing, finds multiple items very fast, to avoid the $10 shipping fee per item that comes with the majority of Supreme bots.
Autofill: Works good, puts information in very fast.
Any Size: Works great, so you can at least secure an item even if it's not your size, and you can sell or size swap with somebody.
Refresher: Works good, refreshes the page at whichever interval you select, ideal for restocks.
Start Timer: Personally never used the start timer, but I've heard great things.
Checkout Delay: Works as it should, delays at checkout for however many seconds you set it to.
PC/Mac/Linux Compatible: Works on all major operating systems, which is convenient.
Free Updates: Free updates during each season, but at the end of the Supreme season, you will have to pay the $30 fee to continue to get updates (As with most bots).
HERE'S A LIST OF CONS AND PROS I PERSONALLY FOUND:
Cons of SuperCopBot's Supreme Bot:
My IP got banned for a couple weeks using SuperCopBot's Supreme Bot (Easy fix with vpn).
To cop multiples of the same items, you will need different credit cards, and addresses (this is with any bot on Supreme though).
The bot is a Google extension, so if the website does crash, the bot can't do anything.
Pros of SuperCopBot's Supreme Bot
The bot is very affordable for what you're getting.
It's been very successful even with very hyped pieces.
It's a very easy to use bot, and can cart multiple items in one cart, compared to bots like Heated Sneaks where it's one item per cart so you have to pay the $10 shipping multiple times.
So, Is SuperCopBot's Supreme Pro Bot Worth $89.99?
Supercopbot's Supreme bot is very affordable as far as pricing goes. Cheaper than Anothernikebot, and a little more expensive than Heated Sneaks. I think the small price jump from Heated Sneaks is 100% worth it, as SuperCopBot's team has great customer service and will happily help you with any issues you may have. In my experience, I've copped tons of hyped items using SuperCopBot's Supreme bot (Even multiples in one cart). It's really the best Supreme bot I've ever used, especially for the price. I'd 100% recommend this bot to secure all your items this season!
If you'd like to purchase Supercopbot's Supreme Pro Bot you can purchase it here.